The easiest way to have a Tropical Second Home with rental revenue!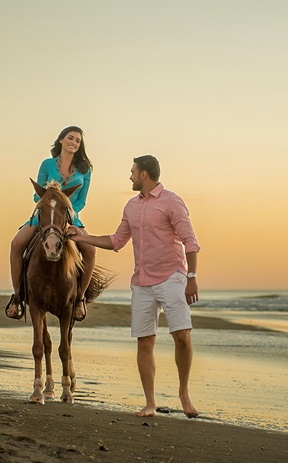 Thanks for your interest in this great opportunity in "The next Costa Rica". We're very excited to offer the final remaining beautiful Phase I home sites in our little piece of paradise.
Here are the details, I'm sure you'll see how easy it is to take advantage of this opportunity. And if you have any questions please contact us, we're always here to help explain and work with you to answer any questions you may have.
We are offering 5 of our remaining large home sites which are only a short walk from the ocean! Your lot faces a beautifully landscaped round-about park area and viewing towards the number 9 golf fairway across the cobblestone street. When your home is built you won't have to worry that someone will block your amazing views in the future as there are just parks and the golf course in front of you! And on the horizon you will have a straight sight of the most majestic Volcano in Nicaragua, Momotombo! You also have views to the ocean and you'll hear the sound of the waves crashing on the shore as you watch the sunset at night. Can you picture that, with your consistently warm days and nights any time of the year, the palm trees blowing in the breeze and picking a mango or banana from your own yard's orchard? It is real, come see it!
And the best part is how easy it is to afford! You can own one of these spectacular home-sites in a beautiful resort for less than $6,000 down!
Financial Details
Golf/Park view Home-site lot price ONLY: $59,900.00
Down payment amount ONLY: 10% -

Just $5,90

0!!
Total amount financed: $53,910.00
Interest rate: 3.900 %
Payment amount: $543.25
Terms: 10 years
Balloon payment after 3 years.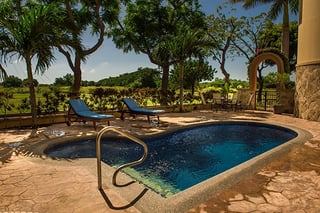 This is an unheard of offer to own land in a beachfront resort in Central America! We believe these lots will go quickly so please do not hesitate to contact us. If you are interested in holding one of these lots you can do so with just the down payment which is fully refundable within 60 days. This gives you the opportunity to come view your new property in paradise and if for some reason you do not think it is for you (which is very unlikely!) we will happily refund your money in full. In fact we are so sure you will be happy with your investment that we will give you a credit of $1,000 towards your cost of visiting us to see your lot if you go ahead with the purchase.
So why not contact us and see what having a home-site and your future vacation and rental revenue earning home could be like? Click here to see a short video showing Gran Pacifica Beach and Golf Resort, your new home away from home!